Here is the info on how to bypass the parking brake lockout on the Pioneer AVH-X3600BHS radio. It will be useful when installing an aftermarket radio, sound stereo system, or other automotive accessories. Make sure to grab the appropriate tools to test all the wires. Please check it over and use it as a GUIDE to help you locate the appropriate wires. This schematic is provided free of charge and may not be 100% accurate. Failure to properly test all the wires may lead to vehicle or bodily damage. All information is provided as-is and accuracy is not guaranteed. This information is provided for informational purposes only and should not be used while driving.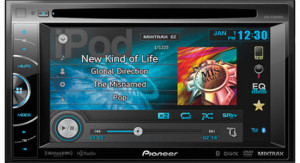 If you find any conflicting info please leave a comment with what you found with your AVH X3600BHS AVH-X3600BHS radio. If you don't see the audio radio wiring diagram you need comment and we will try to add it ASAP. Thanks for looking!
EASY INSTALL AND NO PROGRAMMING REQUIRED!
VERY SMALL IN SIZE!
USE THE MICRO BYPASS USED BELOW:
Easy to install 3-wire hookup and works great! Very small in size easy to hide.